Original Sinn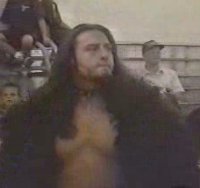 HEIGHT: 6'2"
WEIGHT: 234 lbs
HOMETOWN: Toronto, Ontario, Canada
PRO DEBUT: 2000
BIO: While Original Sinn is still new to the professional wrestling business, he quickly achieved fame through independents and was a regular wrestler of NWA-TNA for a while. Sinn was trained by Ron Hutchinson with the assistance of Edge, Christian, and Joe E. Legend!
Sinn has appeared for XWF Inc. on several occasions and has had the pleasure of fighting for several XWF Inc. titles.
Check out Sinn's website at http://www.theoriginalsinn.cjb.net/
(Partial Credit to Pro Wrestling Illustrated's "2004 Wrestling Almanac and Book of Facts, 9th Edition" and Original Sinn's website, http://www.theoriginalsinn.cjb.net/)