Dan "The Beast" Severn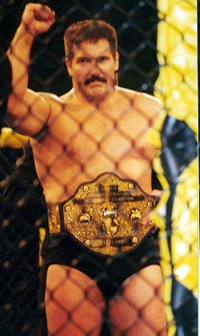 HEIGHT: 6'2"
WEIGHT: 250 lbs
HOMETOWN: Coldwater, MI
PRO DEBUT: Cage - 1982, WWE - 1998
TITLES HELD: NWA World Title, UFC Triple Crown Champion
BIO: Dan Severn has had a lengthy wrestling and fighting career. He started out as a free-style or Greco-Roman amateur wrestler and he's a graduate of Arizona State University. He tried his hand briefly in coaching amateur wrestling, but went into professional fighting when joining UFC in 1994. Severn was very successful in UFC from his wrestling career, in addition to his knowledge of various martial arts. Severn has won 2 eight man tournaments in addition to Ultimate Ultimate 1996. Severn remains the ONLY triple crown UFC champion.
With his UFC career dwindling down, Dan Severn then took a deal from the World Wrestling Federation (WWF) and wrestled for that promotion for a brief period of time before moving on. Severn then wrestled for the NWA and was crowned the NWA World Heavyweight Champion, thereby adding some much needed credibility to that old World title. Dan Severn has since taken up a few business ventures while still wrestling on the side.
Severn wrestled XWF Inc. World Champion "Mr. 8X10" Michael Cruz at a XWF Inc. Benefit Show in Tyler County, WV and Severn's appearance was very much appreciated by those receiving the benefit and XWF Inc. Thank you!
Partial Credit: Sherdog.com and WWWSS.com