New Jack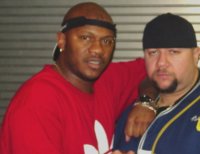 HEIGHT: 6'0"
WEIGHT: 225 lbs
HOMETOWN: Philadelphia, PA
PRO DEBUT: 1992
TITLES HELD: ECW Tag Team Titles (3)
BIO: : Before wrestling, New Jack used to be a bounty hunter (Joey Styles used to hype him as having several justified homicides). New Jack entered pro wrestling in 1992, bounding from one indy fed to the next until joining ECW sometime during the mid 1990's. Extreme Championship Wrestling paired New Jack up with Mustafa and they became the Gangstas, a violent staple to the tag team division. The Gangstas had heated feuds with Public Enemy, the Eliminators, and the newly formed Dudley Boyz. The Gangstas compiled two tag team title reigns. Once you heard "Natural Born Killers" by Dr. Dre and Ice Cube, you knew the shit had just hit the fan. New Jack was famous for running to the ring with a trashcan full of weapons and destroying opponents with a powder filled guitar!
Mustafa became injured and Perry Saturn left for WCW. Therefore, the Gangstanators were formed with New Jack teaming up with Eliminator John Kronus for New Jack to win his third ECW tag title by defeating the Dudley Boyz in a classic match up. The title reign, however, was short reigned and the Gangstanators were soon broken up. New Jack would try a singles career for several years, even feuding with former tag team partner now named Mr. Mustafa. New Jack, however, is most famous for his balcony dives, where he'd leap onto opponents from great heights and onto tables.
Since ECW folded, New Jack has been seen wrestling at the West Coast "extreme" promotion called XPW, along with touring various independent federations throughout the country. New Jack is one of the few major ECW stars to have never wrestled in WCW or the WWE, meaning that New Jack's great drawing power is from his ECW reputation alone!
(Partial Credit to Pro Wrestling Illustrated's "2004 Wrestling Almanac and Book of Facts, 9th Edition")