Viscera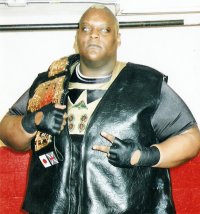 HEIGHT: 6'6"
WEIGHT: 500 lbs
TITLES HELD: WWF Hardcore Title, WWF Tag Team Titles
BIO: Viscera was first noticed as Mabel for the face rapping trio, Men on a Mission, with Mo and manager/rapper Oscar (get it, MOM?). Along with Mo, Mabel wrestled in the tag division in the WWF, even capturing the Tag Titles on one occasion. Mabel, however, would thirst to go out on his own and turned on Mo. Mabel would show early success by winning the 1995 King of the Ring tournament and then being awarded a World Title shot at Diesel (or Kevin Nash) at Summerslam 1995.
The KOTR win and Summerslam title shot was the peak of the Mabel character and that character disappeared once the WWE Attitude era began. In late 1998 or early 1999, the WWF took a new direction with the Undertaker, turning him evil and forming the "Ministry". Along with Mideon and the Acolytes (Bradshaw and Farrooq), Mabel soon appeared and was renamed "Viscera" to form a devastating stable. Viscera would take part in various Undertaker plots, although the only title achievement was winning the WWF Hardcore title for a VERY brief moment at Wrestlemania 16. Viscera has since left the WWE well after the Ministry disappeared and currently wrestles on the independent scene.
Viscera hasn't lost much from since he's started. He's still pretty agile for being a large 500 pounder.
(Partial Credit to Pro Wrestling Illustrated's "2004 Wrestling Almanac and Book of Facts, 9th Edition")