Gangrel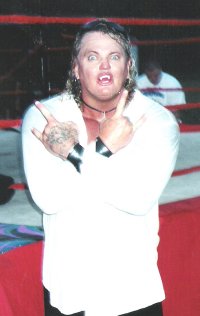 HEIGHT: 6'3"
WEIGHT: 236 lbs
PRO DEBUT: 1988
BIO: Gangrel has had one of the most interesting and unique gimmicks to pro wrestling, incorporating acting and looking like an actual vampire while being a pro wrestler at the same time (actually has the vampire teeth to match it). He was famous on the independent circuit as the "Vampire Warrior". He was getting so much attention that the WWF signed him to become part of their new Attitude mode. The WWF had him drinking blood from a cup, which was one of the controversial aspects of the WWF in 1998. The WWF renamed him as "Gangrel", which is a trademark of White Wolf Publishing and you see that publishing credit on every video game or video that Gangrel is on. Gangrel was also an interesting character to watch because he was a good in-ring performer along with his gimmick. His WWF theme music was very fitting, as well.
Gangrel was mostly used to solidify the midcard and help out both Edge/Christian and the Hardy Boyz establish themselves as stars in the WWF. He was eventually released by the WWF, given that they just wanted Gangrel to help establish other stars instead of pushing the character to a higher level. Gangrel now wrestles throughout the independent scene and still looks just as good as he did on WWF television.
Fun fact: Gangrel is married to Luna Vachon in real life, which explains the brief pairing of the two on WWE television.
(Partial Credit to Pro Wrestling Illustrated's "2004 Wrestling Almanac and Book of Facts, 9th Edition")