"Hacksaw" Jim Duggan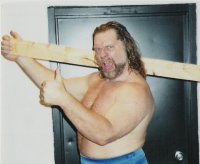 HEIGHT: 6'3"
WEIGHT: 280 lbs
HOMETOWN: glen Falls, NY
PRO DEBUT: 1977
TITLES HELD: WCW US Title, WCW Tag Team Titles, WWF "King"
BIO: "Hacksaw" Jim Duggan is a famous name from the big 1980's WWE machine. He was a part of the new entertaining style introduced by Vince McMahon with the intent of merchandise and getting more kids to watch wrestling. Jim Duggan adopted a nickname and began carrying out a 2X4 wood board with him to the ring. With that, fans began buying up styrofoam 2X4's.
Jim Duggan always played the face, with one exception late in his career. His character was always patriotic and got the crowd behind him with a simple thumb in the air and shouting "HOOOOOOOOOOOO!!!!". Duggan was mainly used in the WWE as midcard entertainment and he did it well. Duggan, although he wasn't pushed to the main event in the WWE, is famous for two things. One, he was the first ever winner of the Royal Rumble in January of 1988 (non-PPV event, televised on USA Network). Secondly, he defeated King Haku to become the WWF King. He was one of the few faces ever to be crowned a "king" in the WWF or WWE, outside of the King of the Ring events. Duggan was also a personality on the "Prime Time Wrestling" shows that would later become Monday Night RAW. He was usually used as fodder for Bobby Heenan cutdowns, as was Hillbilly Jim.
Like many other wrestlers who were now used as TV personalities and not wrestlers, Jim Duggan jumped over to WCW in 1994 after Hulk Hogan was signed. Duggan immediately began feuding with "Stunning" Steve Austin and beat him for the United States title, as well as several successful title defenses against Austin. Duggan would essentially become a midcard fixture in WCW, as he once did in the WWF, for many years until Duggan had some adversity in 1998 (I believe of the kidneys?). Jim Duggan returned a year later to an emotional return on Nitro.
Duggan's career was then made into a mockery when Vince Russo joined WCW. First, Russo turned Duggan into a janitor. While a janitor, Jim Duggan eventually found the WCW TV title that Scott Hall threw away in the trash. Duggan then began to "defend" it on WCW Saturday Night, which was actually entertaining. Then, in an ultimate mockery of his career, Duggan turned heel and joined Team Canada. Duggan didn't join up with the WWE when WCW was bought up, but he was a part of the XWF (not this XWF) that Jimmy Hart started in 2001 to possibly become competition to the WWE. Duggan now tours various independents and was very well received when he showed up on an XWF Inc. event in March of 2003, signing autographs and defeating Cuban Assassin.
Duggan, unlike many other former WWF superstars, is still in great shape and looks like the same wrestler he did 20 years ago. This is despite beating cancer or overcoming any other in-ring injury, as well as old age.
(Partial Credit to Pro Wrestling Illustrated's "2004 Wrestling Almanac and Book of Facts, 9th Edition")