Dick Flanagan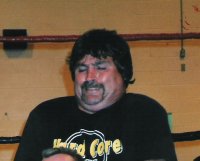 HEIGHT: 6'0"
WEIGHT: 250 lbs
HOMETOWN: Bellaire, OH
PRO DEBUT: Early 1980's
TITLES HELD: XWF Inc. World Tag Champions (1), IWA Tag Titles (1)
BIO: BIO: Dick Flanagan has held the IWA Tag-Team Championship with Cody Michaels (1987) & the XWF Inc. Tag-Team Championship with Mr. 8X10 Michael Cruz(2002).He has worked for : WWF, WCW, ECW, AWA, World Class, & the XWF Inc., to name a few. He trained under the guidance of Dominic D'Nucci along with WWE's Mick Foley, & NWA TNA's Shane Douglas. He has an amazing 3,000 career professional matches to his name. He has been a tag partner of Mick Foley in the 1980's while touring in Italy! This amazing athlete has wrestled performers such as Bam Bam Bigelow, Hector Guerrero, & Shane Douglas. His most recent bout was with The "Living Legend" Larry Zybszko on November 2nd,2002 in Bridgeport,Ohio at the Eagles! His favorite quote: "There are 2 types of people: Weasles and Weasle Slappers" Dick Flanagan is a 18 year veteran.
Partial Credit to Thug Adam