Big Dawg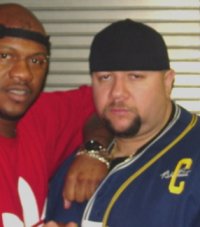 HOMETOWN: Bridgeport, OH
PRO DEBUT: 2002
TITLES HELD: Owner/Promoter of XWF
BIO: Big Dawg was the proud owner and promoter of XWF Inc. He's helped bring the Ohio Valley a surge in independent wrestling while the WWE doesn't tour the Ohio Valley often or have become too expensive. Big Dawg has brought in some star power for the fans, such as former WWWF/NWA/WCW/AWA wrestler and current NWA-TNA personality Larry Zybysko, NWA-TNA's Original Sinn, WCW/OVW/NWA-TNA's David Flair, ECW/XPW's New Jack (pictured above with Big Dawg to the left), WWF's Doink the Clown, current WWE wrestlers Gangrel and Viscera, WCW/WWF's "Hacksaw" Jim Duggan, and WWF/NWA's Tony Atlas.
In addition to providing national starpower for the fans, Big Dawg has put himself together quite a promotion. XWF Inc. has held many shows throughout the valley for the last 3 years.
As the former owner of XWF Inc., Big Dawg usually laid low at the shows, leaving hired executives (Naomi Sinclair or Jack Blaze, for instance) to run the show. However, when the Big Dawg made an appearance, it was for an important announcement or to lay the smackdown to set things straight. In addition, he seemed to enjoy toying with Naomi Sinclair, given that he named a fired Jack Blaze as XWF Inc. CEO in spite of her.