Brandon X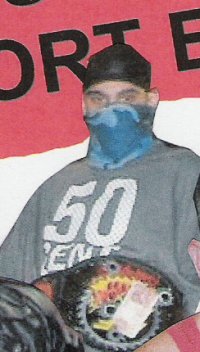 HEIGHT: 6'5"
WEIGHT: 247 lbs
HOMETOWN: Section 8 Housing Department
PRO DEBUT: May 27, 2003
TITLES HELD: AXW Heavyweight Champion, MWF Tag Team Champion, MWF Hardcore (hoodcore) Champion
BIO: After slangin' on the streets Brandon X decided to get paid legit for beating people up. After a year of training at Mega Championship Training Center, "The Pride of Section 8" turned on one of his mentors, Aero, and joined Fresh Aaronsyn, plus TNA's Fabulous John McChesney in his debut match at Mega Championship Wrestlings May Meltdown. During that time and now Brandon X has exploded on the indy scene having work for promotions such as Millenium Wrestling Federation, Cleveland All Pro, Main Event Championship Wrestling, Along with W.A.R. Now he has entered the XWF where in his debut match he was seconds away from becoming the new XWF Heavyweight Champion. Aftre only 1year and a half in the business Brandon X has worked the likes of TNA star J-Rocc, Fabulous John McChesney, International Star and former IZW tag Champion Killer Chris Kole, plus other Ohio indy stars like Aero, Shiek Abdul Hassan, and Dick Trimmmins.
The former Street Pharmacist turned Wrestler is managed by Fresh Aaronsyn who has manager the likes of All Japan's Hito, Danny Daniels, Killer Chris Kole, Fabulous John McChesney along with countless other indy stars.
With Fresh Aaronsyn's business savy and Brandon X's talents, these two have made an impact in every promotion they have been in..