Jack Blaze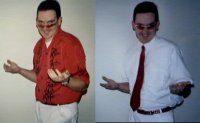 HEIGHT: 5'11"
WEIGHT: 170 lbs
HOMETOWN: Canton, OH
PRO DEBUT: 2002
TITLES HELD: XWF Inc CEO
BIO: Jack Blaze started off in XWF as an announcer. He helped Tony Summers with announcing duties, even calling matches with Summers over the PA system. Blaze seemed harmless until the beloved Tony Summers missed an event. That enabled Jack Blaze to have the lead announcing position one night and he soon began his journey to the dark side.
Jack Blaze severely mocked local celebrity Tony Summers, angering many fans of Summers. Tony caught wind of this and at the next event, their long and heated feud began. Jack Blaze then began several friendships in the back with various XWF Inc. badguys (like Michael "8X10" Cruz), helping to stir up several pots against other wrestlers. This would cause a feud with Naomi Sinclair, the XWF Inc. Commissioner, and eventually lead to Blaze getting fired!
However, Big Dawg, owner/promoter of XWF Inc. gave Jack Blaze the job as XWF Inc. CEO. The power struggle between Naomi and Blaze had hit the fan, insomuch that each talked about forming teams and going up against each other in a mega-match (Team SIN (for Sinclair) and Team BAD (Blaze)). At Summer Xtreme Bash, Naomi somehow fired Jack Blaze after Blaze tried to fool fans with an early retirement. New apparent CEO, Tony Summers, has ordered Blaze to be the new ring announcer after being demoted as CEO.